4th Tawa Girls' Brigade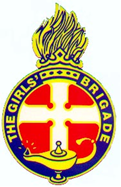 Meets Monday nights at Tawa Union Church
6.00pm – 7.30pm
All girls welcome
Juniors 5 – 8 years
Seniors 9 – 12 years
Pioneers 13 – 18 years
We offer a variety of activities focussing on Spiritual, Physical, Educational and Social aspects.
Come and join our fun activities and make new friends.
All enquiries to Leanne 232-8844 (Church) or 232-2031 (Home)
[frame_center width="525px"]
2017
At our award night in December 2017 we celebrated and farewelled
Rosie who has been at Girls' Brigade for more than 11 years.
We were also extremely proud to have Becky presented with her Queen's Award. She is the first Brigader from Tawa to earn this in 24 years.
Our Chaplain, Faith spoke about the award and requirements and presented Becky with her Queen's badge.
Becky and Rosie
During 2017 we did activities such as baking, section competition sports nights, film making and knitting an Easter craft. Girls also made board games with brigade knowledge questions and used old pairs of jeans to make bags and soft stuffed animals. The second half of the year we went Ice Skating, had a movie night fundraiser for the Wesley Foodbank, made, painted and filled wooden planter boxes in spring, learnt a Cook Island dance, visited Tawa Library and did Christmas Craft.
2015
Activities this year have ranged from water and games nights,
sleep over, ANZAC Parade to sewing, mosaic pots to pet care and music.
We also did personal growth including a spa night,
woodwork and made a movie for award night.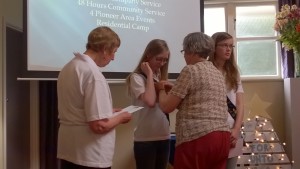 Becky & Rosie receive the Brigader Brooch, the Highest National Award.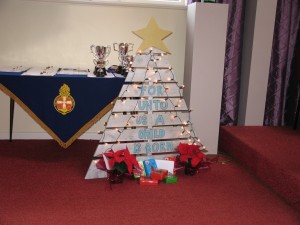 Woodwork by Pioneers
Mosaic Pots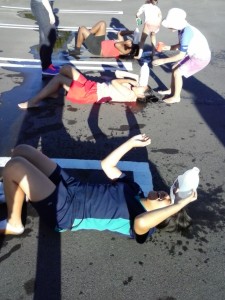 Water Games
2014
We started the first half of the year with craft nights to get to know each other, a Picnic at the Beach, Rock Climbing, Scavenger Hunt, Scottish Dancing, Easter Projects and working on World of Friends Badges.
We have also had a sleep over, a fun day with Plimmerton Brigade, Church Service and joined in the Tawa ANZAC Parade.
The second half of the year began with a very successful High Tea Fundraiser followed by great fun learning First Aid, including CPR and how to use defibulators. Pioneers have learnt how to set up their CVs and how to approach job interviews.
First Aid
High Tea Fundraiser
Scavenger Hunt
2013
85 years of Girls Brigade in New Zealand
[/frame_center]