We have heard the story of Esther- the courageous wife and queen. We have heard the story of Ruth, the loyal and loving daughter in law. Today we come to the story of Mary, a woman who is famous for being a mother – the mother of Jesus.
Amid Catholic and orthodox circles Mary receives a lot more attention than Protestants tend to give her. In Catholicism, May is Mary Month. In different places around the world there are processions that venerate Mary. These celebrations celebrate the Catholic understanding of Mary as the Queen of Heaven (after all her Son is a King)
Some of these processions have a number of displays, with each display picking up a different title for Mary and honouring it. Some are large outdoor processions. But in many churches the procession may be a small one inside, where a statue of Mary is carried around and decorated with a garland of flowers.
That most Catholic of practices, the rosary has a strong focus on Mary. Legend has it that the concept of rosary beads as a prompt for prayer, came to St Dominic in the 13th century when he had a vision of the Virgin Mary. The prayer that is repeated most often in the course of saying the Rosary is the Hail Mary.
'Hail Mary, full of grace, the Lord is with you. Blessed are you among women, and blessed is the fruit of your womb, Jesus.' That part is a repeat of the Angel Gabriel's words to Mary when he announces to Mary that she will have a son.
It is followed by a prayer…
'Holy Mary, Mother of God, pray for us sinners, now and at the hour of our need.'
The mysteries that are remembered during the saying of the rosary recall events from Mary's life as well as Jesus'. The purpose of the rosary is to come to Christ through Mary and so to come to the Father through Christ.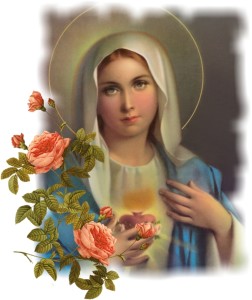 No doubt you have seen pictures similar to this of Mary.
Of the three Jewish women we have talked about – Esther, Ruth and Mary, – Mary is the most in danger of being lost under all the veneration that has come her way; buried among all the things that people have wanted to put upon her.
We were looking at some old photos the other day, some of them very old. There was a severe one of my Great grandmother, surrounded by eight of her nine children. There was one of my mum, looking slightly hassled as she tried unsuccessfully to get four of her five children to look at the camera. There was one of me looking rather bleary, taken not long after the birth of our oldest.
We looked nothing like this depiction of Mary. There was nothing serene or sentimental about those images of motherhood. My mother wasn't sentimental about her parenting of us, and great grandmother Jensen didn't look the sentimental sort at all. While I have enjoyed being a parent tremendously I have never been sentimental about it.
In fact I don't think that I have never met any woman who has been sentimental about her own motherhood. A woman might get sentimental about their mother's motherhood, or the Duchess of Cornwall's motherhood, for instance, but probably not their own. Sentimentality requires a certain disconnect and distance. Your own motherhood is, I suspect, too particular and concrete and close to allow you that distance.
What I am saying, then, is that the overlay that has stuck to Mary over centuries of veneration, almost certainly doesn't reflect how she thought about herself and her role in raising Jesus and the rest of her family. She would have been far too busy and immersed in the concrete realities of life to ever think of herself like this, if she even possessed a shiny surface to look at herself in. It is also unlikely that Jesus and his brothers and sisters thought of Mary, in this sort of idealised way. She wasn't a cartoon or an icon. She was their mum, with all that meant in warmth and grumpiness and rightness and wrongness, and similarities with and distinctness from anyone else's mum.
As a young person on the edge of adulthood she had said, 'yes' to an astonishing proposition from God, and learned that 'yes's' to God can have far reaching implications and consequences. Almost certainly that dawned on her long before she found herself heavily pregnant and a long way from home. And no doubt, as a mother, she said, 'Yes', again and again. For that is what most mothers do in the long haul commitment they make to the wellbeing of their family.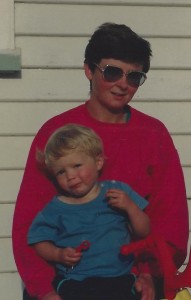 It is perhaps their long haul commitment to that, that puts a mother among the most influential people in her children's lives. However you think the divine and human worked out in Jesus, (as if we can ever really know), Mary would have left her mark on him. Hers is the voice that comforted him and the others. She was the one who taught him his first words and who sang to him as she rocked him to sleep. The one who told him stories.
Mary's song, which we heard this morning, is steeped in the Jewish scriptures. It has strong similarities with the song of Hannah, the mother of Samuel. Although the pleasure that Hannah expresses at enemies getting their just desserts, has no part in Mary's song.
What is interesting is that it has the same turning upside down of the social order that is found in Jesus' teaching and interactions with people. It is not Mary's invention, of course. The Jewish prophets were talking this way long before Mary. But Mary has grasped it. The God she has said 'yes' to is the God who restores the fortunes of the poor and who feeds the hungry, who brings down the arrogant and makes those who expect to come first, and grab the most, wait.
That is not so far from the Isaiah passage that Jesus uses 3 chapters later, to announce his ministry.
'The Spirit of the Lord has come upon me, and has chosen me to tell good news to the poor, proclaim release to the prisoner, give sight to the blind and freedom to the oppressed.'
One of the unusual and controversial things about Jesus the rabbi was the way that he was happy to teach women and even include them in his inner circle. That says something about God's valuing of people, whatever their gender. Perhaps it also says something about Mary, his mother, and the intelligence and openness to God that he had seen in her.
God is a mystery. But we know how humanity works. It is inevitable that something of Mary would have rubbed off on her son.
Clare Lind