On this All Saints' service I've chosen to bypass the blokes and to begin a biographical series on some of the women who have been significant people in the strands of the Christian church that are part of our DNA here at Tawa Union (Methodist, Christian Churches, Presbyterian).  These women are saints in the Protestant sense of the word, that is in the same way that all of us can be called saints.  In their various ways these women allowed their faith in God to affect the choices they made and the ways that they lived.
The first has been called the mother of Methodism.  The title is hers not just figuratively, but literally.  I am talking about Susanna Wesley; she was John and Charles Wesley's mum.  The origins of many of the spiritual practices that came to be associated with Early Methodism can be traced back to Susanna.  She was a very organised, devout and disciplined woman.  Organised, serious devotion was what marked those early Methodist communities.
Susanna' s father, Dr Samuel Annesley, married twice.  Susanna was the youngest of his 25 children (yes, I did say that).  I have no idea how many of them survived into adulthood.  Susanna, herself, would give birth to 19 children.  Only 9 of them survived infancy.
Susanna's father was a dissenter – a minister who refused to sign the Act of Uniformity in 1662.  This act brought in changes to the Prayer Book.  He left his Anglican parish in Cripplegate, London and set up his own congregation.  He was an independent thinker, a highly regarded preacher, and at one point chaplain to the parliament.
Susanna displayed a similar independence of mind, when she chose at the age of 13 to rejoin the Church of England.  She married Samuel Wesley in 1688 – she was 19 and Samuel 26.  Samuel was a Church of England minister.  The couple spent the first years of their married life in London and South Ormsby.  They then moved to Epworth a village near Lincoln.  Epworth was to be their base for the next 40 years.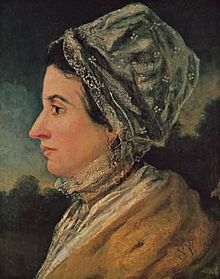 Susanna's life was a hard one.  Samuel's work and personal circumstances saw him away from the parish for extended periods of time.  He was not good at managing money and ended up in debtor's prison on a couple of occasions.  This put a great deal of pressure on the family and their health.  Had young Samuel, the oldest of the Wesley children, not been away from home, working and able to send money home the family might have been even worse off.
Fire twice destroyed the Rectory at Epworth during their residence.  In the second fire 5 year old John Wesley had to be rescued through a second storey window.  His younger brother Charles was just a baby and Susanna was pregnant with her youngest child.  It was a devastating time for the family, in particular Susanna.  She was forced to place her children in different homes for the best part of 2 years while the rectory was rebuilt.  She was not all that impressed with their manners and behaviour when her family was once again reunited.  She determinedly set about getting them into line again.
Susanna developed the practice of spending an hour a week one on one time with each of her children.  In that time she would 'enquire after the state of their soul' and check in on what they were thinking, their fears, expectations, goals.  In doing this she was instilling in her children a regular practice of self-examination.
Susanna homeschooled all her children, girls as well as boys.  On the first day of her tuition she expected them to learn the entire alphabet.  They all learned Latin and Greek and Classical Studies.  She was obviously a good teacher.  The three boys went on to take Master's degrees from Oxford.
At one point when her husband's work took him away for some months, the supply minister whom he'd arranged to take his place was so awful, that Susanna decided she needed to supplement her family's religious education for the duration of the supply.  On the Sunday afternoon she would gather the children.  They would sing a Psalm.  Then Susanna would take one of her husband's or father's old sermons and read it out loud and then they would finish with another Psalm.  When others in the parish got to hear of this they asked whether they could join in.  It got to a point where there were over 200 at Susanna's afternoon service and almost no one at the supply minister's Sunday morning service.
To nurture her own spiritual life Susanna had a practice of daily devotions.  She also wrote scripture meditations, and commentaries for her own use on things like the Lord's Prayer and the 10 Commandments.  Many of these went up in flames in the rectory fire.  Some remain, however, as well as some of her letters to her children, sharing her wisdom and advice on life and the Christian faith.  Susanna's husband, Samuel, comes across in what I have read as somewhat inept.  His life's work was an exegetical commentary on the Book of Job.  It was a labour that took its toll on the family finances and has long been forgotten.  Susanna's more practical offerings had a far greater and more positive affect on the family and beyond.  They are the writings that are remembered.
Susanna was a person who grasped the usefulness of good structures and habits.  One can imagine these things would have been lifesavers in the chaos she endured.  She integrated her wisdom about structures with her approach to faith.  Her spiritual life was disciplined, practical and devout.
She also understood the importance of education for girls as well as boys.  She could make up her own mind about things and create solutions for problems she faced.  Women of her day weren't given credit for being able to do those things.  In her, Charles and John had a role model of a highly capable, intelligent woman.  Her influence was surely one of the reasons why John was open to women in the Methodist movement exercising their gifts in leadership, not just among other women but in mixed gatherings as well.  In time he would even let authorised women preach.
Methodism is very much in her debt.
 Sources
En.wikipedia.org/wiki/Susanna_Wesley
Susanpellowe.com/susanna-wesley.htm